Pousse Caillou Lithography Studio
Pousse Caillou lithography studio has printed and edited over 600 original prints over 25 years. Small formats up to 120x160cm have come out of their machines with artists from various parts of the world.
Vincent Bioulès, Alain Chardon, Holley Chirot, Daniel Dezeuze, Flechemuller, GAP, Juan Jordà, Alain Le Yaouanc, Patrick Loste, Kjell Nupen, Serge Saunière, Wolfgang Seierl, Anne Slacik, Matias Spescha, Kjeld Ulrich, Fabienne Verdier, Jan Voss and many more came to work on the stones in the lithography studio.
First lithography studio in Paris
After a few years of apprenticeship in « pure » lithography in different places in Paris (Cassé, Détruit, Bellini, Clot Bramsen et Georges), Luc Valdelièvre starts his own workshop in the Ricard offices by the Gare de l'Est. But, there, the only type of work possible is the arm press and more room is required for an electric press.
Then it's the opening of Pousse Caillou with Perlette Attlan, rue de Lappe in 1974 in Paris. At that time there is a lot to do in printing and after four years, it gradually becomes obvious that tehre is need for more space as well as more equipment to offer larger formats of printing.
Settlement in Roquefort des Corbières
Perlette and Luc Valdelièvre then decide to leave Paris and start a new lithography studio in Roquefort des Corbières, in the south of France, not far from the seaside, where the way of life is totally different.
The idea seems to have attracted quite a few artists already in the area though there is no tradition of lithography. All the artists who have worked at Pousse Caillou have appreciated both its quietness and its relaxation. The effort required to move to Roquefort is largely offset by the quality of the life.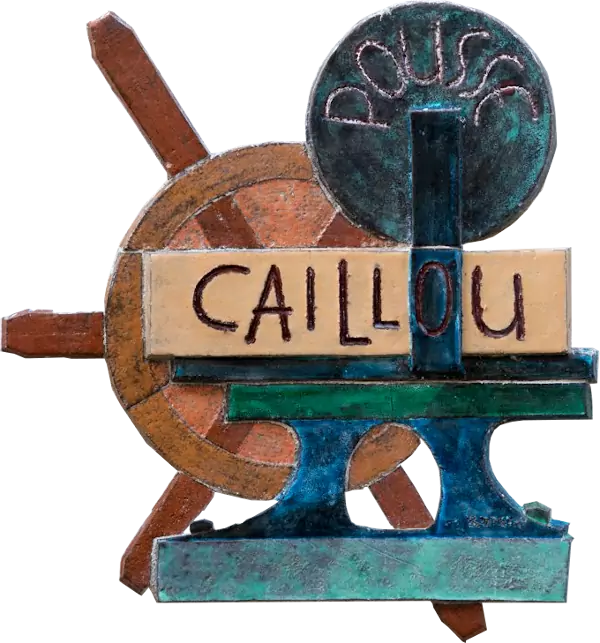 In 1988, the studio grows bigger with the arrival of a new machine that offers a different format : 120 x 160 cm. This new facility attracts lots of artists, a great step for the studio.
In 1999, Luc Valdelièvre passed away and the workshop completely stops its activity.